2021 Group Show
Mad River Valley Arts

ART FORMS: an exploration

April 11 extended thru July 23, 2021 !

The Gallery at Mad River Valley Arts
2 Village Square
Waitsfield VT 05673
802-496-6682

---
Post Office Shows
Rochester Vermont Post Office and Moretown Vermont Post Office

Two shows January 2021 thru Summer

Digital Drawings and Stamp Collages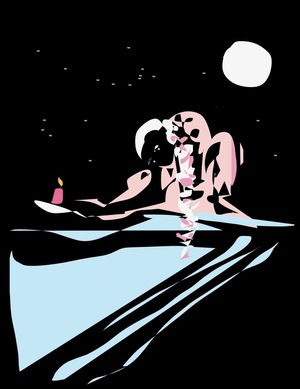 ---
Thank you ❤️
La Poésie d'une saison

In this season

Poetry happens in the moment.

The origami of memory unfolds in soft lights and fragrant pine.

People near and far remind us of the beauty of a season steeped in darkness.

Love and kindness prevail, and a little mistletoe blooms, opening heart over head.

Hearthstones glow in snowy nights, and in the cover of moonlight, safely nested, the season unfolds in tinsel and gold.

-

Branches gathered in big red ribbons

Glass ornaments carefully sway in trees freshly brought in from the cold

A candle dances

A star of straw, a golden heart, a tiny glass fish, a blue silk elephant, sparkles, and a pin cushion, a green pickle, a pug in a red sweater, a silver spoon, a tin dove

These are place holders for friends, and fill our hearts with gently treasured memories


---
Creare
October 13 until early January 2021 (now closed)

THANK YOU <3

one person show @ Creare in Hanover NH
There is a field of stars
between the molecules of
each and every moment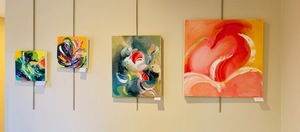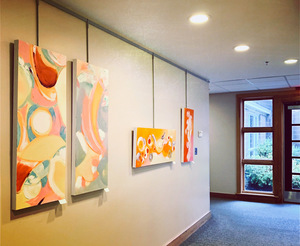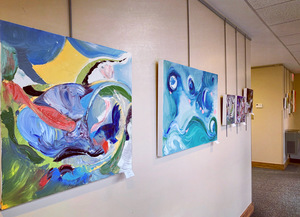 There are 24 images in the show you can view them online at the link below
The images included start with one titled JOY RUSH
and end with the one titled ROSES PLAY

www.https://www.carolinetavelli-abar.com/momentum/explorations/1

---
Explorations
NEW SHOWS COMING IN JANUARY 2021

CURRENTLY HOLIDAY DECORATIONS <3

2020 @ Post Office 05767 Rochester a sense of renewal in flowers and water (drawing and photography)

2020 @ Post Office 05660 Moretown
canvases and stamp.collages to celebrate summer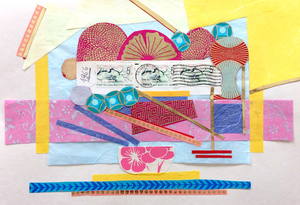 ---
Sandy's
Summer 2020 one person show
Sandy's Books and Bakery in Rochester VT

"Moments in the universe"
The oils on canvas in this show are inspired in part by the depths of the ocean, and by Sandy's gardens surrounding the bakery.
Spring, summer, mystery and joy are some of the themes explored in this work, and titles
like "indigo waters", "rose bliss", "sacred wind" and "honey bee" hint at the poetry the artist finds in life's moments.
Gentle brush strokes dance on the canvas and sparkle dust intensified the artist's connection to the gardens, water, and also to the stars; and the title of the show, "Moments in the Universe" remind her of how ephemeral we too are.
---
Axel's Gallery
June 17 until July 25, 2020
AXEL'S FRAME SHOP & GALLERY
5 Stowe Street
Waterbury VT 05676
802-244-7801
These works share pieces of the artist's journey when mental health became a priority and healing necessary.
Curved lines become anchors in space, an energetic and whimsical way to travel across the page.
Colors like pinks, yellows and intense reds further cement a sense of joyous mystery.
Nature helps heal as well, and the work is filled with hints of flitting bird patterns, budding plants, stars, and galaxies.
The whole expresses a kind of exuberance; the kind of exuberance one finds after having return from the brink with a renewed commitment to living.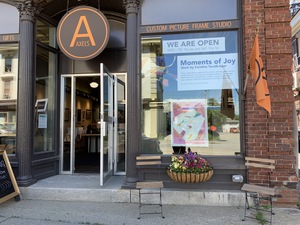 ---
Celebrating the Small: A Group Show 2019
November 30 - December 24, 2019



Axel's Gallery is celebrating the Small in Small Businesses.

Opening Saturday, November 30th.
​
All pieces are 10" x 10" or smaller and priced at or under $100


AXEL'S GALLERY & FRAME SHOP

5 Stowe Street, Waterbury, VT 05676
T / 802-244-7801